NYC Mayor Bill DeBlasio made national headlines this week when he announced that the largest city in the U.S. will ban glass facades in new construction. "We are going to ban the classic glass and steel skyscrapers, which are incredibly inefficient," DeBlasio said on MSNBC's Morning Joe. Stressing the city's goal to achieve carbon neutrality by 2050, DeBlasio also warned that owners of current glass facade buildings in NYC will face steep fines if they fail to improve their energy performance.
DeBlasio's push to address low-performing glass is part of the City's Green New Deal announced this week – a 9 volume plan to attack global warming on all fronts, comprised of $14 billion in new and committed investments, legislation and concrete action at the City level. Volume 7 lays out the City's plan to achieve net neutrality through various means including commercial building energy performance mandates.
You can download Volume 7 of the official NYC Green New Deal here.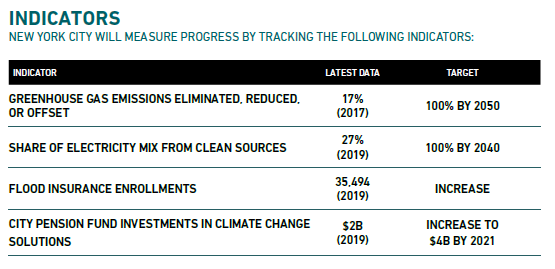 A Low-Cost Solution to Upgrading Glass Façade Buildings in NYC
Retrofitting the facades of older curtain wall buildings is the most convenient and cost effective way for building owners to meet the demands of the NYC Green New Deal. Thermolite specializes in high-performing interior window retrofits that are proven to reduce annual energy use by an average of 20%. Mayor DeBlasio has indicated an objective of 40% reduction GHG emission reduction by 2030.
Tearing out and replacing the curtain wall of NYC skyscrapers can easily cost upwards of $100M and requires displacing building tenants during renovation. Retrofitting the same building can be done for a fraction of the cost, in a fraction of the time, and without disrupting occupants. The following are a few buildings Thermolite has retrofitted in Q1 of 2019 for energy improvement and other objectives:
375 Pearl Street – NYC – Curtain Wall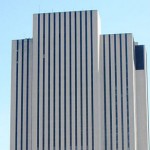 Thermolite windows are an effective alternative to tearing out and replacing curtain wall, which is often too costly and invasive for building owners to justify. This was the case for 375 Pearl Street, a 32-story office building in Manhattan. Without disrupting the tenants or removing a single piece of glass, Thermolite's RetroWAL Silver system upgraded the building's windows from single to double-pane glass. RetroWAL Silver uses ¼" tempered low-e glazing and reduces a building's annual energy costs by an average of 20%.
Download this PDF to learn more about the benefits of retrofitting curtain wall buildings in NYC.
Post Oak Hotel – Houston, TX – Sound Control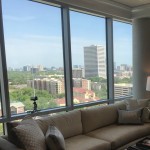 The Post Oak Hotel in downtown Houston is a high-end 700,000-square-foot tower next to a busy highway. Guests had been complaining about noise levels for some time. Thermolite installed heavy duty laminated windows on the inside of the curtain wall. The aluminum frame of the new windows were custom painted to perfectly match the existing frame. The installation was strategically timed so as not to inconvenience the hotel's occupancy schedule. Thermolite sound control windows reduced external noise at the Post Oak Hotel by about 90%, providing a more comfortable stay for its guests.
Download this PDF to learn more about how Thermolite windows can improve tenant comfort in your building or project.
Fordyce Bathhouse Museum & Visitor Center – Hot Springs, AR – Historic Preservation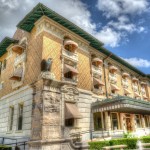 Thermolite completed a historic retrofit for a museum at Hot Springs National Park. To meet the strict demands of the project, Thermolite developed a slim profile window that utilizes UV-resistant OP-3 acrylic panels. Acrylic is lighter in weight and more cost-effective than glass, yet achieves the same energy and air infiltration benefits. This new window system is an ideal solution for historic buildings with small to medium size window openings.
Download this PDF to learn more about federal preservation guidelines for historic buildings.
Fort Riley – Kansas – Blast Windows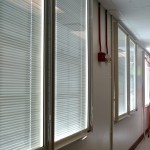 Thermolite recently completed a high pressure blast window retrofit of two buildings at Fort Riley Military Base in Kansas. Thermolite upgraded the existing windows (built in the 1860s) to meet Performance Condition 2 of the ISC Security Design Criteria for Blast Protection – without the need for structural reinforcement.
Download this PDF to learn more about retrofitting buildings for blast protection.