Understanding Local Law 97
Building owners in New York City are under increased pressure to reduce carbon emissions or risk facing hefty financial penalties. Passed in 2019, Local Law 97 mandates that buildings over 25,000 square must meet strict greenhouse gas (GHG) emission limits beginning in 2024.Building owners will be required to submit a report showing their carbon emissions each year. Local Law 97 will impact over 57,000 buildings across New York City and aims to reduce building-based GHG emissions by 40% by 2030 from a 2005 baseline. Read the entire text of Local Law 97 here.
Buildings that exceed their designated carbon emissions limit will face steep penalties, depending on facility type. In most cases, building owners will be fined $268 for every metric ton emission that exceeds their emission target. There are also fines for failing to submit an emissions report and for submitting a false report.
How to Meet Local Law 97 GHG Demands
Local Law 97 most heavily impacts the owners of older curtain wall buildings, which are some of the most energy inefficient buildings in NYC. Since most of a building's GHG emissions are leaked through the building envelope, upgrading the façade is the most effective way to meet Local Law 97's demands. Unfortunately, tearing out and replacing the curtain wall of NYC skyscrapers can cost upwards of $100M and requires displacing building tenants during renovation.
A much more convenient and cost-effective option is to retrofit the building façade with an interior window system, which costs up to 90% less than a curtain wall replacement, and can be done without disrupting tenants.
Thermolite specializes in high-performing interior window retrofits that can help buildings meet their new GHG emission limits, saving buildings owners annual fines that can easily climb to over $100,000 per year. In addition, Thermolite interior window systems have been shown to reduce annual energy costs by an average of 20%, and compound with the total cost savings of other energy upgrades such as efficiency lighting and automated temperature controls.
Now is the Most Affordable Time to Retrofit Your Building
The Urban Green Council estimates that 85% of current buildings in NYC will still exist in 2050, which means that retrofits are fundamental to meet Local Law 97's emissions reduction target. The council recently produced a Retrofit Market Analysis for the US Green Building Council that forecasts a sharp rise in demand for retrofit providers. "In order to meet the challenges ahead," the report states, "we must do retrofits differently, and at scale. New technologies and new business models will be needed, and labor and professional services must significantly ramp up. Many changes lay ahead, but there's also an enormous opportunity for market growth if we invest now."
Based on the report's predictions, the cost of retrofitting a building will soar increasingly as the emissions target compliance deadlines near. The table below shows how the retrofit market is expected to surge over the next decade.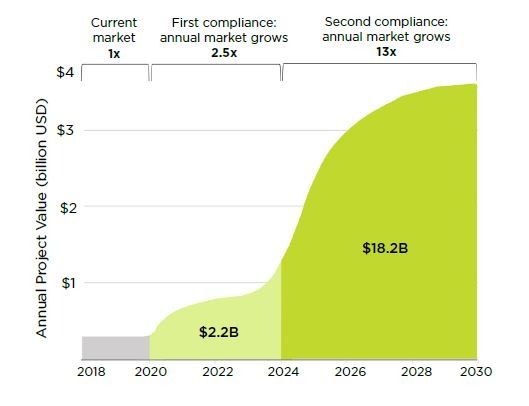 If you own or manage a curtain wall building in NYC that was built before 1980, contact us today to learn more about how an interior window retrofit can help you meet the emission demands of Local Law 97 before the retrofit market spikes, while at the same time reducing your annual energy costs.