The Empire State Building has over 6,500 windows – and with windows being one of the main causes of poor building energy performance, the historic landmark NYC building had a lot of room for improvement. In 2009, the Empire State Building began work on a retrofit project that would modernize the building to be more energy efficient and save nearly 40% on energy costs. The Empire State Building green renovations are hoped to serve as a model for large scale, historic buildings and alleviate the myth that improving window energy efficiency can't be cost effective. Although the results of the Empire State Building window retrofits have been impressive, there are small but key upgrades that could be made to save even more money on energy costs.
Facts about the Empire State Building Retrofit Windows Project:
• The existing glass from the building's 6,514 windows was removed, then double-paned glass was inserted into the operable windows.
• A suspended low-emissivity film, as well as an insulating mixture of gases, was also added between the double panes of glass. This was intended to reflect and trap heat inside and provide insulation in order to retain temperature control.
• By making these changes to the windows, they became 4 times more energy efficient.
• The lifetime of the windows also increased by 25 years.
Bottom line: Over $1 million is saved annually just by the Empire State Building's windows being replaced with double pane existing glass, making it a major success and model of the cost-effectiveness of green updates. Plus, the window retrofit system used did not require new windows so it also demonstrates how historic buildings can become green while maintaining the integrity of its fixtures.
What more can be done to save on energy costs?
The Empire State Building window retrofit project will save millions in energy costs due to upgrading its glass but a key item was not addressed: window frames. Older operable window frames, such as those at the Empire State Building, have high air infiltration due to age and operability. Glass alone does not address frame issue; therefore, the Empire State Building window retrofit project did not address solar heat gain or air infiltration.
As you can see in the photo on the right, when the sun hits the windows just right, it creates a slight pink hue which indicates that only the thermal performance is being addressed.
By installing an interior curtain wall retrofit system with a low-e glaze, like Thermolite's RetroWAL™, it would encapsulate the thermal inefficiency of frame and greatly reduce air infiltration. Since RetroWAL™ installs on the interior, it would allow for the building to maintain its historical integrity while still increasing energy performance – all at a fraction of the time and cost of replacement windows.
Learn more about how Thermolite, the only curtain wall manufacturer of the interior curtain wall retrofit system in the US, can improve the energy efficiency of historic landmarks – contact us today to hear about our recommendations and how our retrofit window products are a cost-effective way of achieving your building performance goals.
Stay up-to-date on Thermolite's latest blog posts: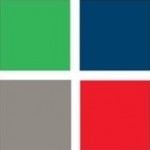 The Thermolite engineering staff is an innovative structural, energy modelling, and implementation team that works to create unique window systems alternatives to traditional replacement windows. Our systems protect against blasts, hurricanes, and sound, while being energy efficient and quick and easy to install. We serve a wide range of industry buildings including government, military, historical, schools and universities, financial, health care, hospitality, and offices. Contact us today to learn how we could update your building's window systems.
References:
http://www.nrdc.org/greenbusiness/empire-state-building-windows.asp
http://www.wbdg.org/references/cs_esb.php
http://blog.rmi.org/blog_empire_state_retrofit_surpasses_energy_savings_expectations