Thermolite is excited to announce a new super-insulating interior window system for the commercial building industry. Featuring the most advanced window technology on the market, Thermolite's new RetroWAL™ Platinum Series utilizes vacuum-insulated glass to far exceed the performance of traditional gas insulating glass units.
RetroWAL™ Platinum installs on the interior of a building's existing windows, keeping the original glass and frame in place, and eliminating the costly need for permits, scaffolding and tenant disruption. Thermolite's RetroWAL™ Series is the only vacuum-insulated commercial window retrofit system that can be installed without prior experience or special tools.
The new RetroWAL™ Platinum Series includes two panes of tempered glass that are carefully separated by a small air-less gap. Maintained by a matrix of micro-spacers, the vacuum-sealed space is completely void of air molecules. This virtually eliminates thermal conduction and convection, two of the three most common sources of heat loss in a window. The RetroWAL™ Platinum Series installed in a building with ¼" clear glass achieves a center of glass R-Value of 12.5, far outperforming traditional replacement windows.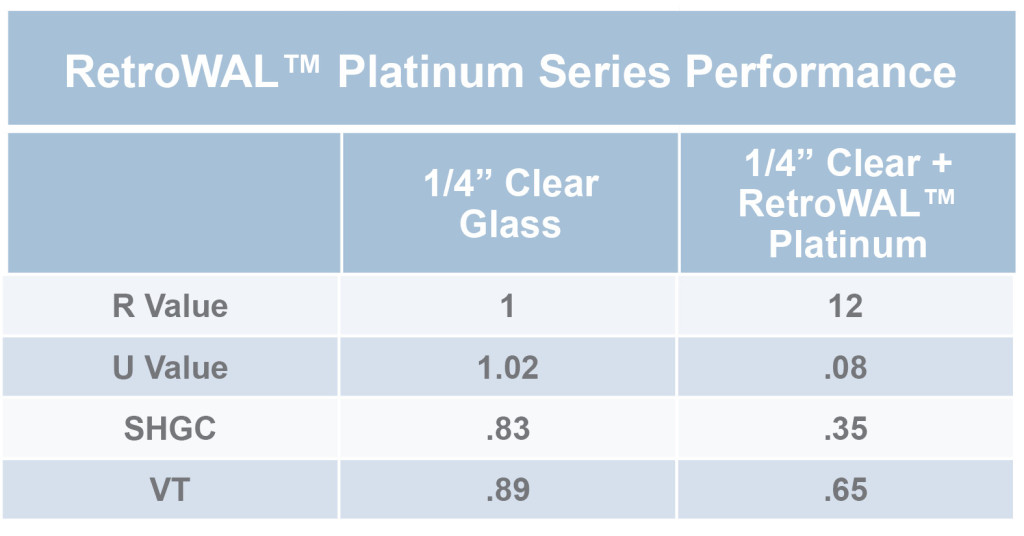 RetroWAL™ Platinum Benefits
Quick & Easy Install | RetroWAL™ Platinum installs on the inte­rior of existing windows, eliminating the need to remove or replace any glass. No permitting, special tools or scaf­folding are needed.
Cuts Energy Costs | RetroWAL™ Platinum upgrades windows from low-performing to high-performing, cutting annual energy use and utility costs by 15-30% (energy reports and analyses available).
Reduces Outside Noise | RetroWAL™ Platinum reduces outside noise by up to 90%, achieving STC 49 and OITC 40 rat­ings, making your building space more comfortable and valuable to tenants.
Improves HVAC Efficiency | RetroWAL™ Platinum lowers over­all energy demand and peak loads, extends the life of a building's HVAC system and significantly downsizes the cost of HVAC upgrades by up to 50%.
Reduces Air Infiltration | RetroWAL™ Platinum minimizes stack pressure in buildings, eliminating common flexing and breakage of old glass during high winds and strong weather.

Contact us today to find out how Thermolite's new RetroWAL™ Platinum Series can improve the energy performance of your building.